2015 Volvo Lineup in St. Louis, MO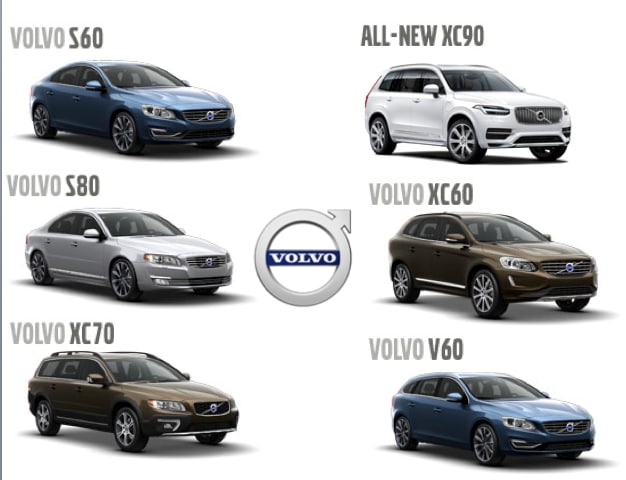 Volvo has become well-known in the St. Louis area for state-of-the-art safety and security options. The all new Volvo lineup still features the safety and security that made Volvo famous, but our new vehicles also offer the finest combination of driving performance, comfort, luxury and functional design available in the St. Louis area.
New
Volvo SUVs
Volvo SUVs aren't built to punish trails or hit the backroads. They are designed to offer unparalleled luxury and comfort in the St. Louis area. XC90s are built so much as they are crafted. The new 2016 XC90 is made with the finest leather and wood that Volvo could find and paired with a supercharged and turbocharged I-4 engine and an eight-speed Geartronic automatic transmission.
If the new 2016 Volvo XC90 SUV is a big brother than the 2015 Volvo XC60 is an energetic little brother. The XC60 SUV is built more for performance than it is for carrying people. The smaller Volvo SUV features an aggressive stance and three different turbocharged engine options with choices that range from 240 HP to 300 HP. 
 

                        2016 Volvo XC90 

               

2015 Volvo XC60
New
Volvo Wagons and Crossover Vehicles

Traditionally, station wagons aren't considered dynamic or exciting in the St. Louis area. The difference is that Volvo doesn't make station wagons. Volvo makes performance wagons. These wagons can get kids and pets to school on time and haul groceries, but they can also offer the safety, performance and handling that serious driving enthusiasts in St. Louis can appreciate.

The new 2015 Volvo V60 and V60 Cross Country offer the versatility and capability of a traditional wagon with up to 43.1 cu. ft. of cargo space, but they also offer up to 325 HP of pure driving performance.

Any St. Louis area driver looking for enhanced traction combined with impressive performance and capability needs to see what the 2015 Volvo XC70 has to offer. The XC70 features a cargo capacity of up to 72.1 cu. ft. along with hill descent control and enhanced all-wheel drive.
 


          2015 Volvo V60



         

2015 Volvo XC70 






2015 Volvo V60 Cross Country
New
Volvo Sedans

Volvo sedans still deliver first class safety and luxury, but they also offer impressive performance and drivability for St. Louis area drivers. The new Volvo S60 is built with safety in mind, but that also comes with a refined suspension and responsive steering. 
The new 2015 Volvo S80 is a full-size sedan designed for St. Louis area drivers to make a statement. The new S80 features unparalleled levels of comfort in a full-size sedan. From the premium soft leather to the ventilated front seats, the interior of the new S80 is built to make drivers and passengers as comfortable as possible while offering uncompromising performance. 
 

                      

2015 Volvo S80
Check Out the New Lineup at West County Volvo
West County Volvo is the ideal location for St. Louis area drivers to get the best that Volvo has to offer. Whether you're a driver looking for a mighty new Volvo SUV or a performance-minded sedan, West County Volvo has the new vehicles that you're looking for. We have almost every model available in almost every trim level available. Contact our team through our website, by phone or visit our Volvo dealership during business hours to get more information on the new Volvo lineup.