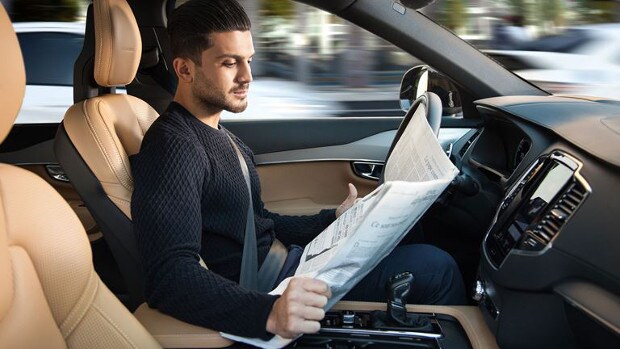 Are you ready to take the next step toward autonomous cars? The future is closer than ever, thanks to Volvo. The 2017 XC90 SUV, soon to be available at West County Volvo, will come standard with the new Pilot Assist II semi-autonomous driving system.
What can the new Volvo Pilot Assist II do? This system can assist drivers at speeds of up to 81 MPH on well-marked highways by controlling acceleration, braking, and steering within the driver's lane and matching the flow of traffic, as long as the driver's hands remain on the wheel. This marks an improvement of almost three times the speed capability of Pilot Assist I. The improved system can now also operate without a lead car to follow.
Drivers can take back control of the car at any time by deactivating the cruise control, accelerating, braking, or turning the steering wheel, though using the turn signal before making a lane change will not turn off the Pilot Assist II system.
Auto steer will keep equipped Volvo models from running off the road, while the Volvo City Safety System's standard pedestrian and cyclist avoidance system has also been updated to include large animal detection.
Pilot Assist II will also be available on 2017 Volvo S90 models for drivers who prefer sedans.
Visit our new vehicle inventory to check for 2017 Volvo models equipped with Pilot Assist II, or reach out to a product specialist at our Volvo dealership serving St. Louis through our contact form to learn more.